Last Monday I woke up and thought "I am going to publish an eBook. I hear everyone is doing it."
Now something you might not know about me is that I am, in fact, a published author. Ten years ago I wrote two very lame children's books which were only published in the US. They featured all Politically Correct characters in schools. Child in wheelchair? CHECK. Asian child? CHECK. Child of same sex parents wearing a rainbow t-shirt? CHECK. Ugly child CHECK. Black teacher? CHECK. Blonde haired blue eyed child in a pinafore? CHECK.
They made me neither rich or famous.
The idea of publishing this eBook came from emails I got from blog readers saying "You should publish a parenting book." So really that is what I have done.  In amongst the pages of Mrs Woog Tales from the Front Line*,  you will find stories from over the last few years interwoven with my slack ass approach to parenting.  There is also a really helpful quiz to help you determine what type of parent you are.
Not a parent? Then you could equip yourself with what is to come.
You are a gayer? Well there is a chance that you will become a parent, so buy it.
You are a grandparent? Things have changed. Keep up with the times old timer.
You are already an expert on parenting? You need not buy this book.
The golden rule of good writing is WRITE WHAT YOU KNOW. Now the writing may not be that good,  but I do know my kids. And the benefits of vodka. And about being disorganised. And taking short cuts.
A special thanks goes to Sass from MooZoo Designs who put it altogether for me.  The woman is a saint. And so patient. She taught me about paypal accounts. And she told me to tell you that it is 233.4 MB file, whatever that means.
Oh, and it costs $7.95. About the same price as a glass of wine at the pub.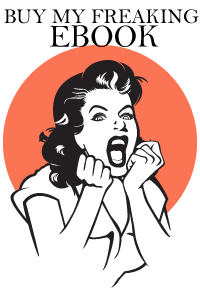 *Tales from the Front Line is a collection of parenting blog posts from this site, but now with 34% less spelling mistakes.