Fashion fails happen to everyone but now I'm a mum they happen more often and more spectacularly than ever. I blame the multitasking, the inability to think straight and just being too busy for words for my latest fashion fail.
My daughter and I rushed off to her dance class early last week hoping to squeeze in a few chores on the way. It's starting to get a bit chilly here in Queensland so instead of wearing my beloved sliver Birkenstock sandals (with real rhinestones!) I decided it was time to don my green plastic clog Birkenstocks. That was just the start of my fashion fail.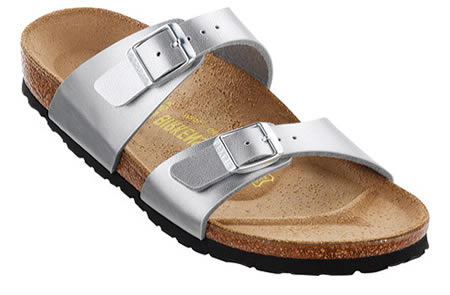 I wear Birkenstocks for every day things like the school run, trips to the supermarket and to deliver the kids to after school activities.
Birkenstocks are the reason why I can't participate in Styling You's #EveryDayStyle challenge; they are not stylish shoes but I don't care. They can be slipped on and off fast, they are super comfy and the sandal version keeps my feet cool in summer while the clogs keep my tootsies warm and dry in winter.
Now you're are up to speed with my fashion fails let me warn you that it gets worse.

That day I grabbed my winter clogs, hopped in the car and off we sped.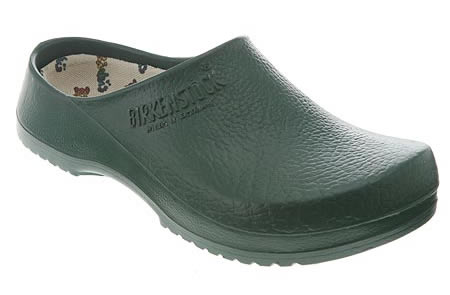 First stop was the computer repair shop where I picked up my good-as-new computer and discussed how to avoid future problems with the helpful technician.
Then we had time to go to the sports shop and buy my daughter a new pair of pink and grey $80 trainers. I was jealous. They're gorgeous. Finally we dashed off to the dance class which is where things started to go awry.
As I was walking across the car park I had an odd sensation.
"My feet feel a bit funny," I thought and they really did.
One foot was feeling a bit drafty while the other was all snug. So I glanced down to see what was going on and was shocked to see that my feet looked like this: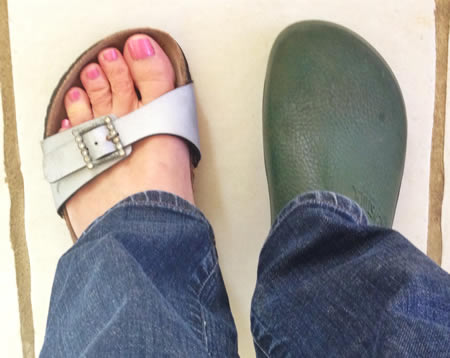 Yes dear reader I was wearing one sandal and one clog.
As if wearing Birkenstocks (which my husband refers to as "my German hippy shoes") was not a big enough fashion fail, I had upped the ante by wearing mismatched Birkenstocks. Not good.
I was then equally embarrassed and terrified other people would think I was trying to make a fashion statement with my odd shoes that I felt the need to explain it to them.
So I pointed out my ludicrous footwear to everyone I met for the rest of the afternoon and now my daughter's dance teacher, the other mums, the librarian and the checkout man at Aldi all know what a fashion failure I am.
That's my biggest fashion fail since my heavily permed and sprayed big hair days back in the eighties. Surely it's the fashion fail to end all fashion fails. I hope it is for me anyway.
Have you ever had a fashion fail?
Annabel Candy has traveled to over 40 countries, lived in eight of them and owns both British and Kiwi passports. But don't hold that against her.
When not bumming round on the beach in Noosa she co-runs digital agency Mucho and writes Get In the Hot Spot, a travel and lifestyle blog which helps women aged 40+ be more adventurous, have more fun and feel fabulous. She tries to avoid fashion fails but accepts that sometimes they just happen.